Exercise Physiology

Reach Optimal Health with Exercise Physiology
Ascot Vale's accredited exercise physiologists deliver you safe and effective exercise interventions to help you reach your optimal health. Accredited exercise physiologists (AEPs) are university qualified, allied health professionals with the knowledge, skills and competencies to serve those with acute, sub-acute or chronic medical conditions, injuries or disabilities.

If you have Private Health insurance or you're currently under WorkCover, TAC, DVA or NDIS funding streams you may qualify for rebates under these compensable schemes. Pathology domains covered by the services of AEPs include:
Kidney

Cancers

Metabolic

Neurological

Cardiovascular

Musculoskeletal

Respiratory/pulmonary and mental health

Any other conditions for which there is evidence that exercise can improve the client's clinical status.
Our Mission
Here at MOVE Ascot Vale we are able to provide the Mooney Valley community with access to locally available, low-cost affordable healthcare via our Exercise Physiology services.

Exercise Physiologists are accredited allied health professionals who can treat injuries, illnesses and conditions through the prescription of exercise therapy. With a 700sqm gym and warm water therapy pool at their disposal, our Exercise Physiology team can treat a broad range of conditions. Patients seeing our Exercise Physiologists can sign up to a membership here at MOVE Ascot Vale to help with their ongoing treatment and to self-manage their condition. If you are experiencing pain or have an injury, illness or condition that you would like treated by our Exercise Physiology Team, please turn over the page or call us on 03 9375 3411
Meet Jess
Accredited Exercise Physiologist (AEP)
Qualifications:
Master of Clinical Exercise Physiology
Bachelor of Exercise Science
Whilst studying creative arts, majoring in creative writing, I suffered a serious knee injury playing footy. After undergoing a strenuous rehabilitation program, I developed a great respect, but also a passion for the way the human body can heal after being pushed to its absolute limits.
I transferred from my arts degree into a bachelor of exercise science and following completion of that course, I started my Master of Clinical Rehabilitation.
Meet Tara
Accredited Exercise Physiologist (AEP, ESSAM)
Qualifications:
Bachelor of Health Sciences - Deakin University, Burwood (2016)
Bachelor of Exercise & Sport Science - Deakin University, Burwood (2019)
Master of Clinical Exercise Physiology (MClinExPhys) - Deakin University, Burwood (2020)
Life! Program Facilitator - Diabetes Victoria (2021)
Tara graduated from her Master of Clinical Exercise Physiology degree at Deakin University in 2020. Prior to this, Tara completed a Bachelor of Health Sciences and Bachelor of Exercise and Sport Science, also at Deakin University.

Tara has experience in a public hospital setting, as well as a private clinic setting and has also gained experience in strength and conditioning with the AFL umpires. Tara believes everyone should be given the opportunity to live to their full potential, motivating clients to want to achieve their goals, both short-term and long-term. Tara advocates for exercise as a form of medicine, constantly preaching the importance of keeping active to those around her and the benefits of exercise on not only our physical health, but also our mental health.
Tara enjoys keeping active in as many ways as possible, with a history of playing several sports and currently engaging in running, pilates and weights training. During the COVID-19 pandemic, Tara started up an online resource in order for friends and family to access a range of workouts, ranging from HIIT to strength sessions, including a weekly zoom workout to encourage social interaction.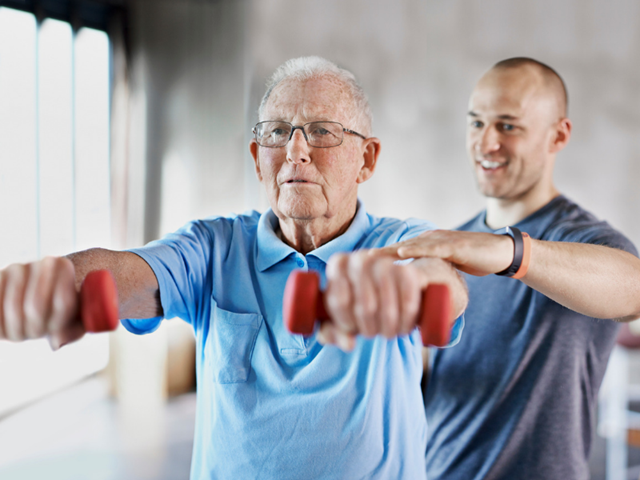 Book an Appointment Today
You can book in to see an exercise physiologist free of charge as part of your full access membership. Individuals who are not members of the facility can also book an appointment with an exercise physiologist simply get in touch!
Exercise Physiology FAQs
Expand all
What is an Exercise Physiologist?
Accredited Exercise Physiologists (AEPs) are recognised and registered by the Australian Government as allied health professionals. Specialising in the prescription of exercise to treat and manage acute, sub-acute and chronic medical conditions, musculoskeletal injuries or disabilities.

With university degree education, an exercise physiologist can work with patients from post-surgery in hospital settings to return to work/sport at community level in private practice. Exercise physiologists can also assist with athletic development and work in elite sport.
How can I see an Exercise Physiologist at Ascot Vale LC
If you are a member of Ascot Vale Leisure Centre you can access our Exercise Physiologist's as part of your membership where they can help determine the best course of exercise treatment for your injury/illness or condition. If you are not a member of Ascot Vale Leisure Centre you can still access our Exercise Physiologists via a referral from your GP or local Allied Health Professional. If you would like to book in with our Exercise Physiologist call us on 03 9375 3411
Do I need a referral?
You don't need a referral unless you're being treated by one of Ascot Vale's AEP's through the following compensable schemes:
WorkCover/WorkSafe
Medicare
TAC (Transport Accident Commission)
NDIS (National Disability Insurance Scheme)
DVA (Department of Veterans Affairs)
Is exercise physiology right for me?
Exercise Physiology is for people who a have high risk of developing or diagnosed with:
Cardiovascular conditions

Coronary heart disease

Stroke

Hypertension

Peripheral artery disease

Musculoskeletal injuries

Muscle strains/tears

Back pain

Joint pain

Arthritis/Osteoarthritis/Osteoporosis

Respiratory conditions

COPD (Chronic Obstructive Pulmonary Disease)

Asthma

Emphysema

Post-surgery Rehabilitation

Knee or hip replacement

Arthroscopes

Laminectomy/discectomy/spinal fusion

Neurological Conditions

Type 1 and 2 Diabetes

Cancers

Mental Health

Obesity
Exercise Physiologists can also work with healthy populations to assist them to optimise their health and fitness goals, leading to improved function and ability to complete activities of daily living.
Why should I see an exercise physiologist?
Exercise physiologists are qualified to prescribe exercise for health, rehabilitation and fitness. The skills and knowledge of an exercise physiologist are developed over five years of university education which enables them to treat proficiently in a variety of settings.

This includes land-based exercise, water-based exercise (warm water therapy) and through education via individualised health counselling and facilitated group programs.
What are the fees and charges to see an Exercise Physiologist?
Fees and charges for individual sessions are below (current as of 01/07/2023, and subject to change).

| Scheme Type | Duration | Fee |
| --- | --- | --- |
| Medicare | 60mins | Gap Payment is $43.40 |
| WorkCover | 30mins | Fully rebated |
| TAC | 60mins | Fully rebated |
| NDIS | 60 mins | Fully rebated |
| DVA | 60 mins | Fully rebated |
| Private Health Insurance | 60 mins | Dependent on coverage |
| Standard Consultation (60mins) | 60mins | $99.30 |
| Standard Consultation (30mins) | 30mins | $76.45 |